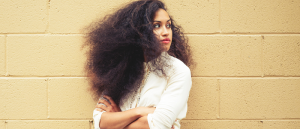 A multi-instrumentalist, producer, and singer-songwriter: Kadhja Bonet's debut album "The Visitor" is due out on Fat Possum Records in late-October. In the meantime, she has released the silken genre-defiant slow-jam that is "Honeycomb". With elements of funk drumming, choral vocals, string arrangements, a psych-folk flute performance, and anything possible to obscure an attempt at genre definition, Bonet has crafted a beautifully soulful song that is as delightful and sweet as it's namesake.
Bonet's arrangement and performance of flute, guitar, violin , viola and vocals shows an expert level of songwriting and a rare level of experienced tasteful production. Her voice appears in precisely layered harmonies, effortlessly thrown up and down the lengths of scales, and with an incredible warm oaky tone that is reminiscent of singers such as Nancy Sinatra and Dusty Springfield, but with a distinctly modern eclecticism. The dynamic range of the song shows just how considered her approach to production is, by varying from an unaccompanied vocal bridge to the full instrumentation of a psych-soul band in a matter of seconds and having instruments weaving in and out of the song.
Kadhja Bonet is an incredibly gifted artist, with "Honeycomb" encapsulating so many styles and so much energy within it's fluent songwriting.