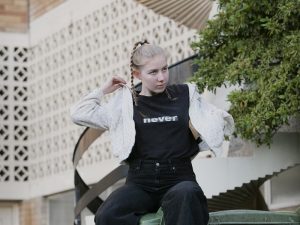 Ahead of mara's first solo show in Melbourne – at our Kindred: Kew Court House show – we spoke to the young multi-instrumentalist about who and what influences her music and performances.
Blending brooding electronics, viola harmonies and deeply layered vocals, mara sets herself apart from contemporaries in pursuing a style that still can't be defined after considering her blend of influences. After giving us a selection of songs with unnerving string arrangements, singer-songwriter folk stylings and electro-pop, it's easy to see why mara's live show is such a unique experience.
Mica Levi – Intro
"Mica Levi writes really good string music. I really love it because of the textures. The Jackie soundtrack is filled with these really thick string chords that start really together and then just slowly fall apart. The whole score has a really uneasy feeling but also so much warmth because of these big chords. In the Under The Skin soundtrack she uses strings to create a completely different sound – it's all high and thin but still uneasy. It's really cool hearing the different extremes of the same instrument.""
Smerz – Thrill
"Smerz are the coolest people. Their whole EP is filled with really interesting bass lines and vocals that bounce of each other. With my new songs they have definitely been a big influence."
Comet 67P/Churyumov-Gerasimenko
"I wish I could sing like this comet."
[soundcloud url="https://api.soundcloud.com/tracks/176387011″ params="auto_play=false&hide_related=false&show_comments=true&show_user=true&show_reposts=false&visual=true" width="100%" height="450″ iframe="true" /]
Kelsey Lu – Dreams
"After seeing Kelsey Lu play earlier this year I decided I wanted to make viola more of the focus in my set. She plays with just her cello and a looping pedal but is still able to create really big and interesting sounds. It's hard when you are using looping to not be super repetitive but she does it really well. She also has a super amazing voice and the coolest hairstyles."
Angel Olsen – Woman
"I like how in control and relaxed Angel Olsen is on stage – she knows what she is doing but she also doesn't take herself too seriously. Also this band really thinks about tone and dynamics a lot which is something most of bands don't consider. These are two things I hope to do well one day."
mara's album liquid is out now, and she will be performing alongside Braille Face and Lucy Roleff at our showcase Kindred: Kew Court House on May 13 (tickets available via Hawthorn Arts Centre).
[bandcamp width=100% height=120 album=1074091819 size=large bgcol=ffffff linkcol=0687f5 tracklist=false artwork=small]